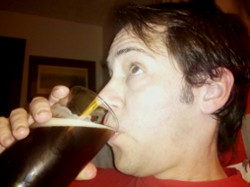 After weeks of waiting, my second home brewed beer, Blueberry Bock, is finally ready to crack open. This home brewing thing is really making me learn self-patience. I hate waiting.
First impressions is that it's pretty good. I was expecting a bit more blueberry flavor, nothing that I was going to be knocked over by, but figured it would be relatively noticeable. It's a pretty subtle blueberry taste, though. If i didn't know what was in it, I probably wouldn't be able to pick blueberries. Still, all in all, pretty good.
The nice part is that the bock is bottled in pint bottles, as opposed to the quart bottles that the Pale Ale was bottled in, so it's a little easier to have a beer and not commit myself to having to drink two pints. I think that when I bottle the Witbeir, I'm going to bottle a couple in quart bottles, but most in pint bottles.