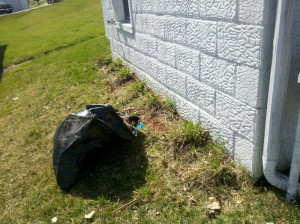 So, I spent the day working down in Caldwell on the house. I didn't do much work outside, but did take a few minutes to clean out the dead tiger lily leftovers from last year. Absolutely stunned by how much dead crap these things leave behind. I guess it is quite possible that it was two years worth of crap, as no one was in the house last spring. I was happy, though, that I could just yank the junk out and didn't have to cut it with pruning shears, which of course I didn't have with me.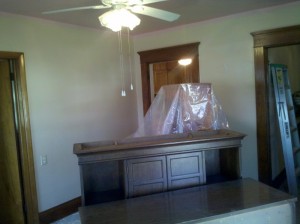 The rest of the late morning, early afternoon was spent inside. I went through a tube of painter's caulk getting the dining room ready for painting. I had never heard of this before buying and starting to work on the house, but it is great. It fills in all those little gaps around the older moulding and doesn't have to be primed before being painted over. The only bad thing I discovered today was that the moulding is going to have to be painted to make it look good. After getting a good look at it, I realized that the last painter didn't do a very good job at keeping the white wall paint off of the stain. Still, though, I think that we're going to keep the current base moulding in place, and add some crown moulding to the room once everything else is done. Should look awesome.
Last on the to do list today was to measure out Shannon's room for what I thought was going to be drywall. After getting done measuring everything I still had a little time left before I had to get back to Barnesville to watch the Ohio State game, so I figured I would rip out a few panels of the horrible blue, fake wood paneling that's going to be replaced.
What do you know, I found very patch-able, although horribly ugly in color, plaster underneath. The last picture doesn't do the nasty peach color justice. It's awful, but still, fixing some plaster is going to safe lots of money compared to hanging drywall. All in all, a pretty productive day. Now all I have to do is learn to patch plaster.