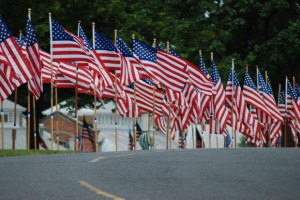 Hope everyone is having a safe and happy 4th of July weekend. More fireworks!
I took Saturday morning to head down to Marietta to run in the Mercer's Military Benefit 5K Run/Walk at Indian Acres Park. It was a first year event with all the proceeds going to the Wounded Warrior Project.
I started off the day by tripping over my shoe lace and skinning my knee. Good way to warm up. It's my own fault; my toe caught in the loop of my lace. Lesson learned. Tuck in your shoe laces before you start running.
It was a small race, with only 50 or so of us there, but it was a really nice little event. The course was almost entirely on the bike path that runs along the banks of the Muskingum River. The difference between the lowest and highest points was only about 30 feet, so it was flat and fast.
So fast, in fact, that I was able to knock almost 30 seconds off of my previous best 5K pace, finishing up at 23:52.
Had a chance to talk to the race director, Brian of ZkFitness, and he said that they planned on having the race again next year. Fun little event that I definitely want to go back to next year.
That's my racing for this month. Looking at possibly three more before the Columbus Marathon: the Debbie Green 5K and the Parkersburg News and Sentinel Half Marathon, both in August, and the Pumpkin Run in September.