Back to racing this morning at the Hospice of Guernsey Flamingo Run in Cambridge. This was the first year for this event, I think, but they put together a really nice event.
Basically the entire route was small rolling hills, nothing super steep, but you just constantly had to be thinking about them. The biggest of the hills (both in distance and steepness) were over the first mile of the course, first down, then back up out of the valley. The portion through Northwood Cemetery was mostly flat, but winding back and forth between St. Louis and Portland Avenues made for climbing the same hill a couple times on adjacent streets. After making its way back to the park, the course went up a short but steep hill and back into the park for the finish.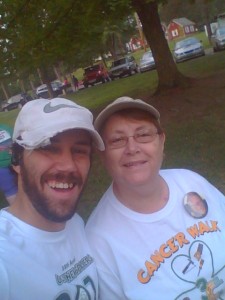 Final time for me was 23:50, good for a new PR and 1st in my age group, so that was pretty cool. All the proceeds for the run went to help out Hospice of Guernsey and the great work they do, and that was very cool. The event was also the first one that both Mom and I participated in, and that was absolutely awesome!
I'll be finishing up the weekend with a 14-mile long run tomorrow, the last long before the Parkersburg News & Sentinel Half Marathon on the 16th. Going to be tough to wait two weeks for that one.