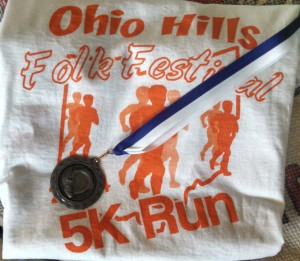 So, I'm 99 days out from the Columbus Marathon, one for each of Jay-Z's problems, and decided to run my second 'on a whim' race in two weeks, the Ohio Hills Folk Festival 5K. Hard to not run a race that's less than a 15-minute drive from the house.
The race didn't start until 9:00 AM, so by the time that the gun when off, it was getting close to 80°. Combine that with some pretty high humidity, and the course zapped my energy pretty quick. The first mile out I completed in 7:40, which I am pleased with, given that it's just under my current 5K PR pace and the mile included a .35 mile, 2.5% grade climb as the path went out of Quaker City.
Around two miles of the run were out in the country, which was a really nice change of scenery. Mile two was all out among the hay fields, and the road turned from sealed to loose gravel. That, combined with the rising temperatures slowed me down significantly; I huffed and puffed through a 8:16 second mile. I was able to pick the pace up just slightly for the last 1.1 miles, but only to a 8:12 pace. Overall, I finished in 24:57, just over a minute slower than last week's time, but that was good enough for 2nd in my age group. First in my group was just 13 seconds ahead of me, but I just couldn't catch him, despite chasing him the whole second half of the course.
So, two races in two weeks. That's the first time I've done that since taking up running again. The legs are tired. Seeing as how both races were last-minute, "Hey, I'm going to do that!" races, I've decided to lay out the events I'm going to run between now and Columbus and stick to only running those races. Otherwise, I'll end up running every weekend and will be too tired to train properly on my long runs. I'm going to run the Flamingo Run 5K  in August and the Pumpkin Run 5K in September. I'm going to run the News & Sentinel Half Marathon in August as well, but I'm going to work that in to be the long run for the week. Hoping to finish the half at 9:00 per mile. That would be a huge improvement over my Ogden Half time, but it also looks like a much flatter course. (29th Street Hill was demoralizing.) We'll see where I am when we get there.
---
Don't forget that I'm a Children's Champion for the Nationwide Children's Hospital Columbus Marathon, and I'm trying to raise $1,000. Anything you could donate would be awesome. (Go to http://10t.co/brockcm14 to donate, or download a mail-in form.)